Delphine Rivoiron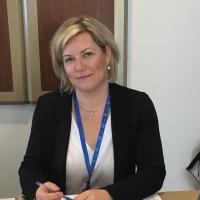 Delphine Rivoiron
School Administrative Manager
Meet Delphine, a dedicated and experienced professional who has been part of the CERN team since 2000. She started as a project assistant for the LHC project in Group AC-TCP, where she managed all engineering documents for the "LHC Hardware Baseline."
In 2004, Delphine worked as a Department Planning Office assistant in the EST Division, where she was responsible for the follow-up of billing on the budget codes and monthly publishing of accounts for all the Groups of the Division. When EST and ST Divisions merged, she moved to the "LHC - Installation and Coordination Group" as an Administrative Assistant.
In 2008, following the completion of the LHC installation, she transitioned to the Beams Department as an Administrative Assistant for Accelerators and Beam Physics group. With her extensive experience in various roles at CERN, Delphine's diverse past experiences and her university background in International Business are essential assets for her current position in the CAS team.
Since 2017, Delphine has been working as the school administrative manager. Her role involves a diverse set of tasks, including managing administrative matters such as selecting the venue, organizing travel arrangements, and expediting course materials for the hands-on courses. She is also responsible for organizing social events, such as excursions, visits, and evening programs. With her passion for her work and her dedication to providing exceptional service to students and staff alike, Delphine is a valuable asset to the CAS team.