Delphine Rivoiron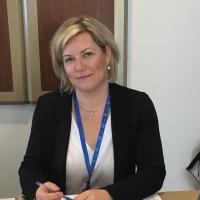 Delphine Rivoiron
School Administrative Manager
Delphine works at CERN since 2000. Her first job was project assistant for the LHC project, in Group AC-TCP (Accelerators, Technical Coordination and Planning). She had to manage all engineering documents for the «LHC Hardware Baseline».
In 2004, she worked as Department Planning Office assistant in EST Division. She was responsible for the follow-up of billing on the budget codes and monthly publishing of accounts for all the Groups of the Division.
When EST and ST Divisions merged, she moved to "LHC - Installation and Coordination Group", as Administrative Assistant.
In 2008, at the end of the LHC installation, she moved to Beams Department, as Administrative Assistant for Accelerators and Beam Physics group.
Since 2017, she is part of the CAS team. In this position, her various past experiences and her university background in International Business are essential assets, as her tasks are diverse and involve contacts at all levels in and outside CERN. She enjoys working as school administrative manager, as there are many administrative matters to be organised, like selection of the venue, organisation of travels, expedition of course materials for the hands-on courses, and organisation of social events: excursions, visits, evenings programs…