Christine Vollinger‎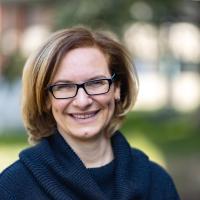 Christine Vollinger‎
Deputy Director
Christine Vollinger received her diploma in electrical engineering in 1999 from Technical University of Berlin (TUB), Germany with the main focus on theoretical electrical engineering, RF-engineering and electromagnetic field calculation. In 2002, she obtained her doctoral degree in engineering from TUB for the modelling of superconductor magnetization and the numerical calculation of field errors in the LHC dipole magnets.
Christine is a staff member in the RF-engineering group of the department of Accelerator Systems at the European Organisation for Nuclear Research (CERN).
Her main fields of research are Radio Frequency technology for particle accelerators and the calculation and measurement of beam impedance contributions for machine elements in all the CERN circular accelerators.